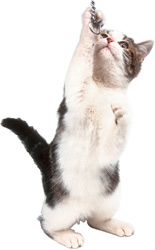 Lawrence County Animal Ordinance
CONDENSED VERSION OF
THE COMMONWEALTH OF KENTUCKY
LAWRENCE COUNTY, KENTUCKY
ORDINANCE NO. 04-006
(Note: The full version of this ordinance is available at the Lawrence County Judge/Executive's office located in the Lawrence County court building, Lawrence County, Kentucky.)
BE IT ORDAINED BY THE COUNTY OF LAWRENCE, KENTUCKY AS FOLLOWS:
[1] All animals shall be properly tagged.
[2] Untagged animals or animals at large may be taken by the Sheriff, the county dog warden, or the humane society and impounded in an animal shelter. Animals not claimed by their owners within seven (7) days shall be eligible for adoption or may be destroyed. The Lawrence County Humane Society, as an agent of Lawrence County, Kentucky, shall sell the tags at their facility and retain all revenue to operate the center.
[3] All dogs shall be vaccinated in accordance with KRS 258.015 and shall be licensed in accordance with KRS 258.087.
[4] Any animal found in the county which is not properly vaccinated, licensed, or wearing proper identification or running at large under conditions set forth above shall constitute and declare to be a nuisance and shall be impounded as hereinafter provided.
[5]Any person violating any provision of this ordinance shall be fined not less than $25.00 nor more than $50.00 for their first offense; not less than $50.00 nor more than $100.00 for the second offense within a six month period; and not less than $100.00 nor more than $500.00 for any third or subsequent offense within a six month period.
[6] In addition to the penalties set forth in [5] herein, the owner of any animal taken to the animal shelter shall pay fees and charges assessed by the animal and shall further be subject to the rules and regulations of the animal shelter.