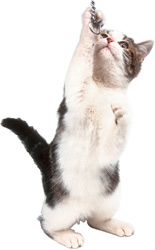 Community News
The following supplies were collected for the Open Arms Animal Shelter by the Lawrence County High School. Students for Spirit Week.

The supplies were brought to the shelter by the Lawrence County ROTC students.

The Lawrence County Humane Society is forever grateful for their kindness and compassion for the shelter animals.

With much sadness and a heavy heart, the Lawrence County Humane Society is announcing effective May 1, 2023, the Open Arms Animal Shelter will no longer be the shelter for the Lawrence County Fiscal Court.

You may wonder why we made this decision. In February, we found out the County had set up a shelter in the voting building at the entrance to the county garage on Highway 32. The County did not tell us. We heard it from a cashier at Walmart. We contacted the Judgeís office for clarification and were told by the Assistant Judge Executive it was for overflow when the Open Arms shelter was full.

We set up a meeting with Judge Carter to discuss and at that meeting, we were told we didnít know how to run a shelter, we were always full and couldnít take animals when animal control wanted to bring them, we had been a problem since the day we opened our doors and that all we do is ask for money on Facebook.

At that time, Animal Control had brought us 2 hounds with broken pelvises, a pregnant dog almost hairless from mange who vet said not to treat until pups were born and weaned, a dog with nerve damage to his head, 2 dogs with ringworm and mange which are contagious conditions meaning they could not leave until cleared. All of these took a month or more to clear so they could leave the shelter, not to mention more vet bills.

Judge Carter asked us to write a proposal to address his concerns. We had a second meeting with him and presented a proposal for the county to help fund the cat shelter, giving the county access to TNR grant money and room to accommodate more cats, and we would go on our own with the dogs. We told the county at that time we had room at the shelter for dogs and cats and it seemed like the county was willing to work together.

Since the last meeting, there has been little communication. Any communication has been on our end. We have contacted the County Judge and the Animal Control Officer several times and told them we had room available. We received no response or an OK. Early on, the county brought us 3 hounds which had been in their shelter for a month and no animals have been brought to us since. We were told if we donít bring animals to you, we arenít paying you, even though we have taken several animals from the citizens of Lawrence County after they called us saying they got no response from the County or County told them they were full.

We have provided animal sheltering services to the Lawrence County Fiscal Court for 29 years. During this time, we have worked with several County Judge Executives, Animal Control Officers and Magistrates. For the past 29 years, we have received $1833.34 dollars a month with which we were expected to operate the shelter, pay the bills, employ workers and do maintenance on the buildings and property. In 2022, it took almost $130,000 to operate the shelter and this would have not been possible had we not received the support of our local community, rescue partners and individuals from all over the country. Thank you for always supporting us and trusting us to take care of the unwanted animals in this county.

During these 29 years, we received an average of six hundred animals per year. That is approximately 17,000 animals that were treated humanely and given another chance for a better life. We not only helped the animals in this county but we also helped many people. We helped individuals with veterinarian bills and helped spay and neuter personal pets where people were not able pay for these services. There was barely enough to keep the shelter running and many times we as individuals helped our citizens.

We are very lucky to have as one of our volunteers, Bev Pack, who has tirelessly advocated for the people and cats of Lawrence County. In 2016, she wrote for the first grant to help the cats and people in the county. 1318 cats have been spayed or neutered through the voucher program. These vouchers are for individuals that have cats in Lawrence County. 904 Trap and Release cats have been fixed and relocated to places where they are fed and now live in safety, including 30-40 cats residing at the shelter. Bev Pack continues to apply for grants to help the animals of Lawrence County. We thank her for all she has accomplished.

We are still a functioning shelter with animals in our care. It is in our best interest to move on from this partnership due to lack of respect and communication. We will continue to take animals from Lawrence County citizens.

We will need to make up the $1833.34 a month we will no longer receive from the County. We appreciate everyoneís past support and hope you will continue to stand with us and support us so we can continue to help the voiceless animals of Lawrence County. If you need to reach us, please call the shelter 8-3 Mon-Fri at 606-673-4509 or contact us through mail at Open Arms Animal Shelter, PO Box 1331, Louisa KY 41230.
Last Updated:
September 15, 2023
Design By:
Allen Kelly © All Rights Reserved, 2005 - 2023